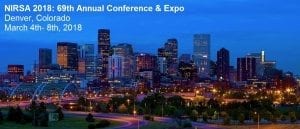 Attention: Colorado NIRSA Members,
We would like to invite you to apply to be a part of the NIRSA 2018 Host Committee for the Annual Conference in Denver, Colorado, March 4-8th, 2018! The host committee has a variety of responsibilities, so please read below for the various opportunities to get involved. WE ARE IN NEED OF APPROXIMATELY 5-10 MORE PEOPLE TO APPLY, ESPECIALLY THOSE FOLKS IN THE OUTDOOR ADVENTURE WORLD!
Host Committee Responsibilities:
Facility Tours – selects the facilities, creates the schedule, and plans the logistics for the preconference facility tours
Outdoor Adventure Trip – selects activity and plans logistics for the preconference outdoor adventure trip
Guest Program – plan and lead a half-day tour for the guests of conference attendees (e.g. museums, shopping)
Community Service Project – selects the activity/organization and plans logistics for the preconference community service project
Host Table – plans the logistics of the host table at the conference site (this will be the first non-Gaylord conference and the host table is expected to be very important for this conference since we will be located in downtown Denver)
Time commitment:
In addition the informal meeting that will occur at the 2017 Annual Conference, the 2018 Host Committee members will meet in person 2-3 times between June 2017 and March 2018. The first in-person meeting will occur in June 2017 when NIRSA HQ visits the Denver Convention Center for a site visit. Outside of the in-person meetings, expect to be involved in monthly committee calls from June 2017 to March 2018. Additional sub-committee work will occur outside the planned full-committee meetings/calls. It is anticipated that the heavy work periods will be June to September 2017 and then again from January to March 2018. Please keep this in mind as you are deciding if this experience will fit your other responsibilities. This committee will need a lot of additional volunteers for the actual conference dates so that is another way to get involved with the 2018 conference if a sub-committee is not an option.
Please note there is a Supervisor Approval component:
In light of how our profession will be impacted by the Fair Labor Standards Act starting in December, a letter of approval from your direct supervisor will be needed. This can be in the form of an email and can be VERY BRIEF.
Deadline: Please submit this application form and your supervisor approval by December 30, 2016. Please have the approval email sent to Erin Patchett at erin.patchett@colostate.edu. Selection notification should be completed in mid-January 2017. An informal committee meeting will be held at the 2017 Annual Conference.
Questions?
If you have any questions about this application form, please contact Erin Patchett at erin.patchett@colostate.edu. Thank you for your interest in volunteering on the Host Committee for the 2018 NIRSA Annual Conference!